---
Revised Protocols from the Archdiocese
News Bulletin:  
In addition to Kingston, Frontenac, Lennox & Addington (KFLA) Region, medical officers of health from the Leeds, Grenville and Lanark District Health Unit; the Eastern Ontario Health Unit; Renfrew County and District Health; and Ottawa Public Health announced that face coverings will now be mandatory in indoor public spaces to stop the spread of COVID-19. This includes worship spaces and churches. There will be exceptions to the requirement, for instance for children under the age of two, or people who are medically or physically unable to put on a mask. Officials will rely on the good faith of individuals who say they are unable to wear a mask. For more details, please click on link below.
Here are some guidelines to help with implementation:
1. All parishioners must wear a face mask in the church. With this they should bring their own face mask. This should be communicated prior to Mass as well as signs posted at the church entrances. Should some parishioners not be aware of the order and not be prepared, masks are available. Both Churches have a stock pile on hand if they are needed.
2. All clergy and others involved in ministries, including Extraordinary Ministers of Holy Communion, readers, ushers, etc. must wear masks except during portions of the Mass when speaking is required. Please ensure you don and doff the mask properly.
---
Your Parish appreciates your continued financial support. Kindly consider using CanadaHelps or Pre-Authorized Donations from your bank. These forms for Pre-Authorization can be found on this page, titled "Appeal".
---
Mass Times
Mass Schedule
Sat Vigil Mass 4:30pm (SM)
Sun 9am Sacred Heart
Sun 11am St Mark
Sun 7pm St Mark (July&August)
Ad Orientum
Weekday Mass Schedule
Mon – 8am St Mark (AO)
Tues – 8am St Mark (AO)
Wed – 7pm St Mark
Thurs – 8 am St Mark
Fri – 9am Sacred Heart
First Friday – 7pm St Mark (AO)
---
Update
---
Mass Update
As we prepare for your arrival kindly take some time to
consider the following:

1) The key principles for the next few weeks will be brevity. Holy Mass will be shorter.

2) Singing is strongly discouraged so you are asked to refrain from singing.
Please do not sing at all throughout the Mass. I will not be singing either.

3) If you have any sick or have a critical illness you should remain at home. Of course if you choose to come you will not be turned away. We will
continue to stream the Masses until we are back to a more regular
arrangement.

The Entrance for St Mark will be the Sacristy Entrance & the
East Ramp Entrance. The main doors will be the exit. At Sacred Heart we will carefully use the main doors for both the entrance & exit.

Sunday Mass will appear more like a weekday Mass. There will be a
short procession from the sacristy. Please do not enter the Sacristy. If
you need a Mass Card or prayer request call Father Brennan at 613 213 3171.
On Saturday & Sunday:
– We will pray the Penitential Rite.
– The Gloria will be said.
– The Readings will be proclaimed.
– A very brief (3-4 minute) homily will follow.
– The Creed.

Petitions:
Please prepare your own petitions and offer them in your heart
during the Mass.

– There will be no procession of the gifts.
– The Eucharistic Prayer will be prayed.
– The Our Father
– Sign of Peace. Please do not wave to each other or give the two finger sign of peace. Neither of these reflect what is the intention here ….
You are recognizing the presence of God in the other person and
praying they know God's peace. The most appropriate gesture is a
slight bow or nod of the head to the other person. You have seen me do this at the sign of peace to all of you at every Sunday Mass.
-Holy Communion will be received at the usual time. Everyone will be asked to remain in their pew and an usher will direct you. As you approach
Father stay six feet apart (the exception is families)
-Final prayer and Blessing.

Please do not leave your pew until an usher has indicated you should do so.

A Basket for the Sunday Offering will be at the doors of the Church.

Please keep six feet apart at all times. Washrooms are for Emergencies only. Families can sit together. Please sit in the designated pews. They are
marked six feet apart.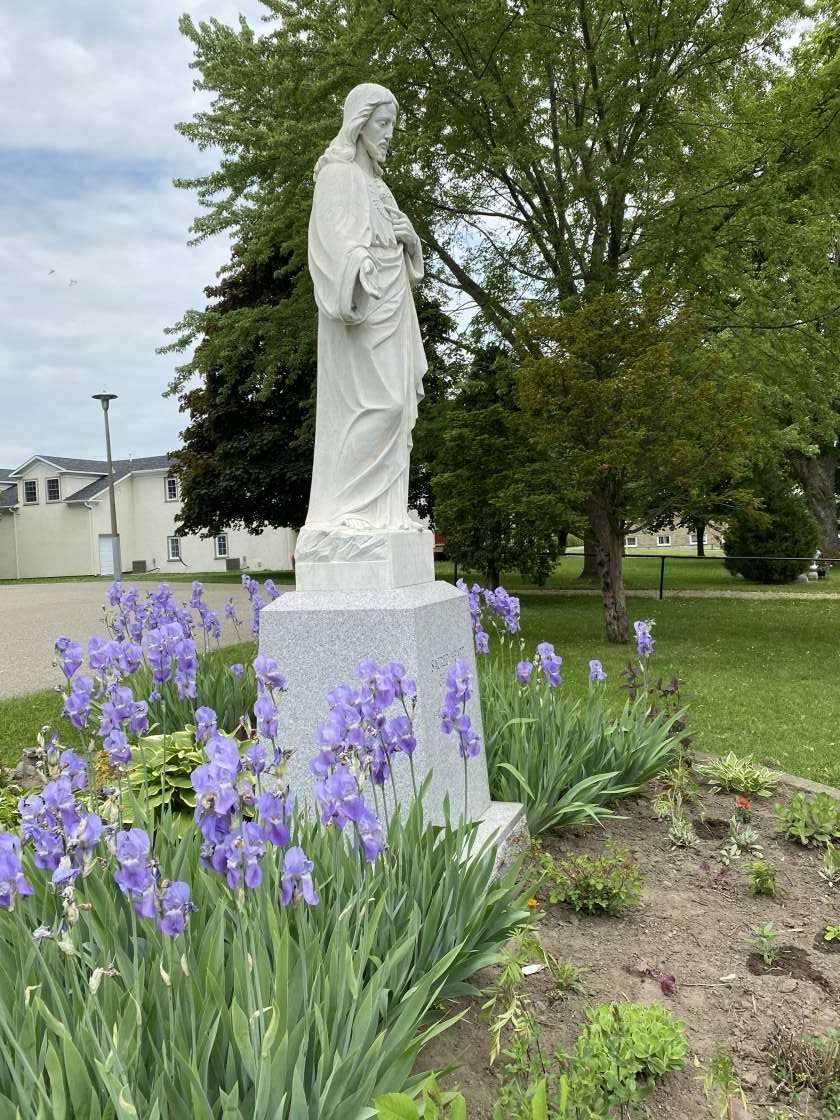 ---
St. Mark and Sacred Heart
Streamed Masses and Videos
---
Update
April 30th, 2020
Friends,
This weekend St. Mark's will be hosting a virtual panel discussion on vocations in commemoration of "Vocation Sunday".
We are pleased to have three young people join whom have responded generously to God's invitation–Father Justin from St. Francis, Sr. Guerline who is serving young people in Cornwall, and Brother Frank who is currently in Rome for studies. I will be facilitating the panel.
The video will premiere on Saturday at noon, but you can access the video anytime thereafter, at your leisure.
The link will be posted as usual on the parish video site (www.honeybeecompany.ca/church), as well as on this current site (www.stmarksacredheartparish.ca) but the most up-to-date information can be found on the Facebook event page:https://www.facebook.com/events/444503129721206/
God bless, John Espadero
---
Update
April 29th, 2020
Consecration of Canada to the Blessed Virgin Mary,
Mother of the Church, in time of pandemic
For use in Parishes
1 May 2020
SIGN OF THE CROSS
In the name of the Father, and of the Son, and of the Holy Spirit.
All: Amen.
GREETING
Priest/Deacon: The Lord be with you.
All: And with your spirit.
INTRODUCTION
Brothers and Sisters, in this time of pandemic marked by desolation and with worry about the future, let us entrust our parish to the care and protection of the Blessed Virgin Mary, that we may benefit from her powerful intercession as we join our prayers and efforts with her maternal mediation in Christ.
By imploring the incomparable help of Mary, Mother of God and our Mother, we invoke her solicitude upon our parish and country and ask that she intercede with her Son Jesus to hear the prayers of her children who seek protection from the ravages of the coronavirus, healing for those who are ill, wisdom and courage for those who assist the sick and distressed, and eternal rest for those who have died.
During this month of May, which the Church particularly dedicates to the Mother of Christ, we are one in consecrating ourselves and our loved ones to Mary most Holy, the humble Handmaid of the Lord and his most perfect Disciple. We lift up in prayer and in recognition all those many women and men, clergy, religious and laity, who tirelessly commit themselves to the care of others. The innumerable acts of deep human kindness as well as authentic Christian charity which we witness across the globe are a source of great consolation for all. We are reminded evermore of the need to believe and hope against all hope, and we are called to reach out to the needy, the lonely and the dying, and so welcome the graces of divine consolation.
OPENING PRAYER
Let us pray.
O God, Father of mercies,
whose Only Begotten Son, as he hung upon the Cross,
chose the Blessed Virgin Mary, his Mother,
to be our Mother also,
grant, we pray, that with her loving help
your Church may be more fruitful day by day
and, exulting in the holiness of her children,
may draw to her embrace all the families of the peoples.
Through our Lord Jesus Christ, your Son,
who lives and reigns with you in the unity of the Holy Spirit,
one God, for ever and ever.
R. Amen.

WORD OF GOD John 19.25-27
X A reading from the holy Gospel according to John.
Standing near the Cross of Jesus were his mother,
and his mother's sister, Mary the wife of Clopas, and Mary Magdalene.
When Jesus saw his mother
and the disciple whom he loved standing beside her,
he said to his mother, "Woman, here is your son."
Then he said to the disciple, "Here is your mother."
And from that hour the disciple took her into his own home.
The Gospel of the Lord.
R. Praise to you, Lord Jesus Christ.
SHORT REFLECTION

APOSTLES' CREED
I believe in God,
the Father almighty,
Creator of heaven and earth,
and in Jesus Christ, his only Son, our Lord,
who was conceived by the Holy Spirit,
born of the Virgin Mary,
suffered under Pontius Pilate,
was crucified, died and was buried;
he descended into hell;
on the third day he rose again from the dead;
he ascended into heaven,
and is seated at the right hand of God the Father almighty;
from there he will come to judge the living and the dead.
I believe in the Holy Spirit,
the holy catholic Church,
the communion of saints,
the forgiveness of sins,
the resurrection of the body,
and life everlasting. Amen.
ROSARY – Jesus is Crucified
Recalling Jesus' words as he hung on the cross – "Behold your mother" – we meditate on the fifth sorrowful mystery of the Rosary, The Crucifixion and Death of Our Lord.
Our Father[1] - 10 Hail Marys – Glory Be
O my Jesus, forgive us our sins, save us from the fires of hell,
and lead all souls to Heaven, especially those in most need of your mercy.
PRAYER OF CONSECRATION 
Most Blessed Virgin Mary, Mother of the Church,
in this time of pandemic, we turn our gaze to you,
and in Christ consecrate to you
the faithful of this Parish [name of the Parish may be added here.]
together with all the people of Canada.
At the Annunciation, fear gave way to trust
as you embraced the mysterious and loving plan of God,
who through his providence, care and concern
brought about newness of life in you and through you.
Intercede, we pray, on our behalf as your children, Virgin most faithful.
Grant us faith, hope and perseverance,
as we strive to serve and bear witness to all persons,
responding to the needs of those affected by this virus.
Standing at the foot of the Cross at Calvary,
you united yourself with the sufferings of Christ
and so uniquely contributed to the mystery of our redemption.
We beseech you as Health of the sick,
draw to yourself in maternal compassion
the brothers and sisters of your Son Jesus
and all those who are grieved by this pandemic.
Strengthen the dying and comfort those who weep
so that all may experience
the healing grace of Christ our Divine Physician.
At the Cenacle, after the Resurrection,
you accompanied the Apostles with prayer
for the outpouring of the Holy Spirit.
In your maternal care as Consoler of the afflicted,
accompany healthcare professionals,
all who minister to the sick and those who seek a cure to end this pandemic,
that the Holy Spirit may renew the face of the earth.
To all of us, dearest Mary, Mother of all the living,
be present and show forth your tenderness,
as we raise our eyes to you who shine forth before the entire community
as a merciful and compassionate companion on our journey.
Time and time again, with burdens weighing heavily on their hearts
and in their many necessities,
the Christian faithful have sought refuge under your mantle of protection.
Come quickly to our aid at this time, Mother of Mercy,
and deliver us from the dangers that surround us in our hour of need;
especially watch over the elderly, the weak and the infirm,
our children and the unity of our families,
and all those who give of themselves selflessly in pastoral care
to those in need
until in your arms and in your gentle embrace we all find safety and solace.
R. Amen.

INTERCESSIONS
United as one Body in Christ, let us direct our prayer to our All-loving God,
who wants us to honour Mary our Mother;
with her we, too, praise the Lord's mighty deeds
as he continues to lift up the lowly,
remembering his promise of mercy:
R. Look upon Mary, O God, and hear our prayer.
Or: May your Mother intercede for us, O Lord.
May the Blessed Virgin Mary, Mother of the Church,
who experienced the cares and hardships of earthly life,
the weariness of daily toil, the trials of poverty and the sorrows of Calvary, come to assist the needs of the Church,
the initial budding forth of your Kingdom on earth, and all of humankind. R.
May the Blessed Virgin Mary, Mother of the Church,
lend a gracious ear to the devout pleas of those
who from across the world implore her goodness
for health, safety and peace, especially for our parishes,
our domestic churches and all our communities of faith. R.
May the Blessed Virgin Mary, Mother of the Church,
obtain the gifts of knowledge and wisdom
for government officials and medical professionals,
that a cure for the virus may be found,
and for all who care for the sick, the suffering and the dying,
may she obtain from the Lord courage and benevolence. R.

May the Blessed Virgin Mary, Mother of the Church,
pray on our behalf and with us to the Lord of life and love,
who rules the winds and storms,
to calm the tempests in our minds and hearts
and grant us consolation, security and peace in our day. R.
THE LORD'S PRAYER  (omit if prayed as part of the Rosary.)
CONCLUDING PRAYER
As we conclude this consecration, we ask the blessing of Almighty God:
Bestow the grace of your kindness
upon your supplicant people, O Lord,
that, formed by you, their Creator,
and restored by you, their sustainer,
through your constant action they may be saved.
Through Christ our Lord.
R. Amen.
FINAL BLESSING
Priest/Deacon: The Lord be with you.
R. And with your spirit.
May almighty God bless you,
the Father, + and the Son, and the Holy Spirit.
R. Amen.
REGINA CAELI[2] 
Queen of heaven, rejoice, alleluia.
For Christ, your Son and Son of God, alleluia,
has risen as He said, alleluia.
Pray to God for us, alleluia.
Or:
Regina caeli laetare, alleluia;
Quia quem meruisti portare, alleluia :
Resurrexit, sicut dixit, alleluia :
Ora pro nobis Deum, alleluia.

Acknowledgements
Excerpts from the English translation of The Roman Missal © 2010, International Commission on English in the Liturgy Corporation (ICEL). All rights reserved; © Concacan Inc., 2011 for the Canadian Edition. All rights reserved; © Libreria Editrice Vaticana, 2008 for the Latin text. All rights reserved.
Excerpts from the English translation of Mense Maio, Encyclical of Pope Paul VI on Prayers During May for Preservation of Peace © Libreria Editrice Vaticana, 1965. All rights reserved.
Excerpts from the Lectionary, Sundays and Solemnities, copyright © Concacan Inc., 2009. All rights reserved. Used by permission of the Canadian Conference of Catholic Bishops. This edition of the Lectionary, Sundays and Solemnities follows the Ordo Lectionum Missae, editio typica altera, Typis Polyglottis Vaticanus, 1981.
The Scripture quotation contained herein is based on the New Revised Standard Version of the Bible, copyright © 1989 National Council of Churches of Christ in the USA. Adapted and used by permission. All rights reserved.
Adaptations for liturgical use have been made to selected Scripture texts. These adaptations have been made to bring the readings into conformity with the Ordo Lectionum Missae, editio typica altera, the Lectionarium and Liturgiam Authenticam, as well as to facilitate proclamation. These adaptations were prepared by and are the sole responsibility of the Canadian Conference of Catholic Bishops. Adaptations copyright © 2009 National Council of the Churches of Christ in the USA. Used by permission. All rights reserved.
Consecration of Canada to the Blessed Virgin Mary, Mother of the Church, in Time of Pandemic © Concacan Inc., 2020. All rights reserved.
This resource may be reproduced without permission for noncommercial purposes by Dioceses/Eparchies, parishes and other religious organizations. For all other usage, please contact permissions@cccb.ca.

---
[1] The Our Father may be omitted here if it is to be included later in the celebration.
[2] Especially for Eastern Churches, an alternate Marian hymn/antiphon may be used where appropriate.
---
Update
April 28th, 2020
PARISH BULLETIN ANNOUNCEMENT
During the week of May 3 to May 8, 2020, the Catholic District School Board of Eastern Ontario will celebrate the significant contribution that Catholic Education has made to the community, the province and to Canada. The Catholic schools in our parish will engage in a series of events to celebrate the ongoing gift of publicly funded Catholic education. Publicly funded Catholic education has existed in Ontario since 1841 and its graduates have served Ontario and Canada very well. The current generation of students in our publicly funded Catholic schools will serve with the same spirit and generosity as their previous generations.
This year's Catholic Education Week theme is, "Igniting Hope."
The theme for CEW 2020 was inspired by three sources:
The CEW biblical quote is, "May the God of hope fill you with all joy and peace in believing, so that you may abound in hope by the Holy Spirit." Romans 15:13
---
Update
April 4th, 2020
Dear Rev Deacons & Parishioners,
As we begin our Palm Sunday this year, Holy Week is taking on a new meaning for all of us. This is going to be new chartered waters. This Saturday Palms will be blessed and available at the Church. All day Sunday as well. I hope this sacramental becomes a sign of your desire to grow close to God and a sign God's immense love for you. Jesus was greeted with palms yet these greetings quickly turned to an inhospitable calculated hostility towards the Saviour of the world. This hostility reveals our need for prayer, penance and conversion. Yes, these palms will dry and wither yet, they symbolize an element which conveyed and conveys an openness to welcome the Word become flesh. It is a reminder of our need of salvation.
I have included a message from our Dean Rev. Father Brian Price:
Dear friends in Christ,
At this time of the year we would normally be considering what extra penances we might undertake for Holy Week – extra Rosary; Way of the Cross; fasting and abstinence etc. This year however we have penances imposed upon us because of the pandemic – isolation; closure of stores and services; social distancing. This was not what we expected but it reminds us that our Blessed Lord had sufferings imposed on Him that were much more severe. Still He accepted the cross and all it implied to accomplish a great good – our salvation. In that same spirit, we might consider accepting our sufferings to achieve a greater good, our own health and well-being as well as that of our neighbour. We have no way of knowing how long this difficulty will last but while it does, let us ask God for the grace to turn this trial to good effect. God bless you all.
Fr. Brian J. Price
Below you will find a pastoral helps from Father Justin:
– Fr. Richard Whalen of St. Michael the Archangel parish in Belleville has put together a terrific Family Palm Sunday Service to help you celebrate. If you're not going to view Mass online (or even if you are), I encourage you to use this with your family (see attached).
– Fr. Price and I will be blessing the palms on Saturday evening and celebrating Palm Sunday of the Passion of the Lord in the morning at 9am.
– Even though we think we could have pulled it off quite successfully and safely, following all the governmental and ecclesial directives, I've decide to abort the Palm Sunday plans I was contemplating. There's just too much heat on churches nowadays, and it's better to be prudent than sorry. So in lieu of that, this Sunday you can pick-up your (blessed) Palms at….
· St. FX
o In front (outside) of the side-entrance of the church
o In front of the main door of the rectory
· St. Patrick's Lansdowne
o On the rectory front porch
· St. Brendan's Rockport
o In front of the side sacristy entrance
– One good idea to celebrate Palm Sunday that's been bandied about is to put the branches on your door. Let's do this!
– Of course you can always watch the Mass and make a Spiritual Communion (if you're in a state of grace).
– Some of my favourite online Masses are from….
– The most popular ones are from…
· EWTN
You can also watch the Mass on TV
· EWTN (Ch 184) – 8am, 12noon, 7pm, 12midnight – (USA all 1 hour duration)
· Salt&Light (Ch 185) – 6:30am, 11am, 3pm, 10:30pm – (CDN all 30 min duration)
· Vision (Ch 67) – 8am, 12noon – (CDN all 30 min duration)
· YES TV (Ch 14 Cogeco & 261 Bell) – 1pm – (CDN 30 min duration)
· Bell ExpressVu (Ch 261 & Ch 656) – 12noon & 4:30pm
If you want to go to Confession
– Many of you have already written asking for Confession, and we've made private arrangements to accommodate such requests. Holy Week is an excellent time to examine your conscience and go to Confession. When we avail ourselves of the Sacrament of Penance, our sins are forgiven and we are reconciled to God and to the Church. After all, it's our Easter duty.
– Archbishop Mulhall has given us permission to hear confessions outside so that as many as possible can make their Easter duty and prepare as well as possible for Holy Week & Easter.
Confessions at Sacred Heart in Cardinal: By appointment anytime.
Call 613 213 3171
Manner: I will be in my vehicle parked across from the Church simply drive beside me. Grey Kia Rio
Mon April 6: 1pm – 2pm
Tues April 7: 6pm – 7pm
Good Friday from 10am – Noon
Stations of the Cross booklets will be available outside the Church.
Confessions at St. Mark in Prescott: By appointment anytime.
Call 613 213 3171
Manner: Penitents can come to the Rectory South Porch. Father Brennan will be on the other side of the Door. The door will be slightly open so we can hear each other.
Mon April 6: 3pm – 5pm
Tues April 7: 3pm – 4pm
Wed April 8: 6pm – 7pm
Thursday April 9: 1pm – 2pm
Good Friday: 5pm – 7pm
Holy Saturday: 1pm – 3pm
Holy Water will be available at St Mark Parish Church. The Holy Water container will be left outside the Sacristy door for those who desire to fill their containers. The Holy water will be left outside during the day from 8am – 5pm.
Manner of Confessions at ST. FX
· Park either in the back school lot or in front of the church along Church St.
· Make your way to the rectory front door, and if no one is confessing, enter into the front vestibule. (see pic)
· Use the kneeler or chair to make your confession as usual. I (or Fr. Price) will be on the other side of the door, so it'll be anonymous. The mail slot will be propped open, and we'll be able to hear each other through that. (No one will be in the office or living room, thereby ensuring our privacy)
– Should there be a line, please do not bunch up but maintain the necessary physical distancing as you wait your turn.
– If you are at high risk for the virus – the very elderly, the frail and those who are sick – you should not come. Stay isolated and you can make your confession when the pandemic has passed.
Manner of Confessions at Sts. Patrick & Brendan
I'll be in my red VW in the parking lot, with my window down.
Pull up beside me so your driver side window is facing my driver side window (like the cops do it) If there are others in your vehicle, tell them to (literally!) take a hike while you make your confession, and do likewise if they want to confess.
Confession Times
· St. FX (Brockville)
o TODAY, (First) Friday, Apr 3rd from 3-4pm
o (First) Saturday, April 4th from 3-4pm
o (Spy) Wednesday, April 8th from 10-11am
o (Holy) Thursday, April 9th from 10-11am
o (Good) Friday, April 10th from 10-11am & 1-2pm
o (Holy) Saturday, April 11th from 10-11am
· St. Patrick's (Lansdowne)
o (Holy) Thursday, April 9th from 2-3pm
o (Good) Friday, April 10th from 9-10am
· St. Brendan's (Rockport)
o (Holy) Thursday, April 9th from 12:30-1:30pm
o (Good) Friday, April 10th from 10:30-11:30am
More Helpful Resources
It's really good to do the traditional 7 Penitential Psalms during this time of crisis, but also because Holy Week is about to start. I propose that you do one each day, starting today, the First Friday and ending on Good Friday (see attached)
Download the Relevant Radio app and listen to the In Conversation with God podcast every day. In my opinion, it is the best.
Add 10minuteswithjesus to your podcast app or listen via Youtube
Awesome meditation by Msgr. Fred Dolan to help guid and anchor our thoughts and prayers, remind us of our core identity, and grow spiritual during this stressful and uncertain time.
Helpful infographic to distinguish between COVID vs. COLD vs. FLU vs. ALLERGIES
Some of you have requested Holy Water. This morning Fr. Price just blessed a fresh batch, using the powerful traditional rite from the Roman Ritual. You can take what you like from the holy water basin (bring your own container), which we've now moved to the front vestibule of the rectory (near the 'confessional'). (Keep in mind that new Easter holy water will be blessed next Sunday. Yay!)
FYI, we're going to get Flocknote so that communicating with you will be made easier and nice. So hopefully this will be the last time this is being sent from my personal email address. But thank you for submitting your contact info to us! If you want to be removed from this list – just let me know.
Finally, it's important to remember that senior citizens not being given the chance of treatment, simply on the basis of age, is absolutely wrong. Medical reasons are the only objective way to make moral decisions in these situations – not age alone. Read this important piece to understand the reasoning.
We are grateful for the ongoing support we receive from parishioners. This Sunday we will have our Mass available online. You will receive an email with instructions on how to view it.
God Bless,
Father Brennan
---
Palm Sunday
April 5th, 2020
---
Parish Donations
Saturday, March 28th, 2020
Your Parish appreciates your continued financial support. Kindly consider using CanadaHelps or Pre-Authorized Donations from your bank. These forms for Pre-Authorization can be found on this page, titled "Appeal".
---
Norms for the Celebration of Sacraments
March 28th, 2020
---
Appeal
Saturday, March 28th, 2020
---
The Fifth Sunday of Lent
Sunday, March 29th, 2020
---
NOTICE FROM ARCHDIOCESE
March 24th, 2020
All churches in the Archdiocese of Kingston are fully closed — even for private prayer — until further notice.
---
Fourth Sunday of Lent
March 22nd, 2020
---
NOTICE FROM ARCHDIOCESE
March 17th, 2020
---
Third Sunday of Lent
March 15, 2020
---
Second Sunday of Lent
March 8, 2020
---
---